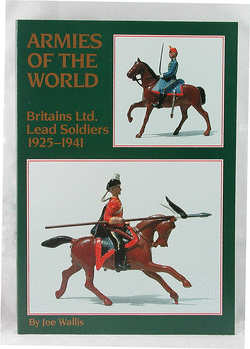 SOGB Order Form
​This authoritative history of Britains Limited lead soldiers and civilian lines issued between 1925 and 1941 features:
a thorough History of the Firm, a chapter of Basic Identification Hints, a Glossary of terms used, a list of Recommended Reading, Appendices of sets made prior to 1925 and after 1945, and a comprehensive Topic Index and Finding Aid;
550 closeup black-and-white photographs of the military and civilian figures of this period (with identifying captions for each photo); photographs face the corresponding set descriptions;
and 418 pages of detailed descriptions providing color schemes, changes in the composition of sets, cross-references to other sets with the same figures, and the years during which each set or item appeared in the catalog.
ARMIES OF THE WORLD ORDER FORM
Name:
Address:
City State Zip or Postal Code
Mail with payment ($40 U.S.A.; $65 Overseas and Canada, which includes postage) in U.S. funds or pay with PayPal to:
Joe Wallis, P.O. Box 3407, Arlington, Virginia 22203-3407,
or order from the author on Amazon.com or Amazon.co.uk (search for Joe Wallis plus book title).