Britains Limited Books: Postwar Britains Book (1946-1966)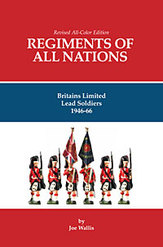 The definitive history of Britains lead soldiers between 1946 and 1966, entitled Regiments of All Nations , is considered the standard reference on postwar Britains. A revised, hard cover edition, with color photographs is now available. This new edition consists of 415 pages instead of 258 pages and contains over 100 additional photographs, so even collectors who have the previous paperback will want to get a copy of the new edition.
This book by Joe Wallis results from years of intensive research. He has published 150 articles on Britains in the Old Toy Soldier magazine since 1976, as well as Armies of the World, which covers Britains Limited production between 1925- 1941.

REGIMENTS OF ALL NATIONS (revised and enlarged edition, ISBN 9780983837800):
Features over 500 close-up color photographs of postwar military and civilian figures (with captions for each photo);
Includes detailed descriptions providing color schemes, changes in the composition of sets, cross-references to other sets with the same figures, and the years during which each set or item appeared postwar;
Places photographs in numerical order throughout the text, facing the corresponding set descriptions; and
Includes a thorough History of the Firm, a chapter of Basic Identification Hints, a Glossary of terms used, a list of Recommended Reading, Appendices cross-referencing the 9000 Series set numbers as well as listing all known prewar sets, and a comprehensive Topic Index and Finding Aid.
To order, print out the order form, fill it out, and mail it to Joe Wallis, P.O. Box 3407, Arlington, Virginia 22203-3407 with payment. U.S. customers send $60; Canadian & overseas customers $85 in U.S. dollars (prices include postage).