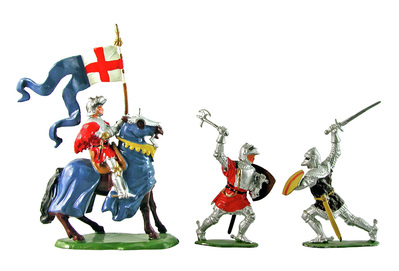 From 1893 until 1966, the firm of Britains Limited manufactured hundreds of millions of hollowcast lead soldiers, delighting generations of children. The wide variety of military and civilian figures created, and the rarity of some pieces, has inspired many to reawaken their interest as adult collectors. As with other collectibles, the cost of these toys has reached levels many times their original price, especially for those which have survived childhood battles structurally intact and with good paint.

Soldiers of Greater Britain examines the early years of Britains Ltd. production from 1893 to 1924. Armies of the World is a study of the period from 1925 to 1941. My other book, Regiments of All Nations, reviews the era from 1946 to 1966. I have compiled these books to enhance the knowledge of collectors, believing that their appreciation of the hobby will simultaneously increase. For serious collectors, my books will be a ready reference for identification and inventory purposes. However, even general readers examining the photographs and accompanying descriptions will find themselves drawn to these finely made figures so evocative of Empire, pageantry, and craftsmanship.

Detailed descriptions of my books, plus forms for ordering them, are on the following pages of this website. Click on the headings at the top of this page to navigate to those pages.

This website and its content is copyright of Joe Wallis, 2011. This material includes, but is not limited to, the design, layout, appearance, graphics, photographs, and text shown. Any redistribution or reproduction of all or a part of the contents is strictly prohibited.
---